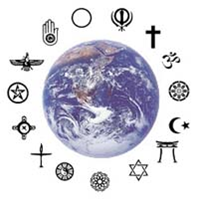 Interfaith Ministry respects all spiritual paths and honors the Divine wisdom in all faiths.
Interfaith is inclusive and honors all people, religions and spiritual traditions.
Interfaith acknowledges the great Spiritual Teachers, Masters, Sages and Mystics including Jesus, Buddha, Krishna, Gandhi, Muhammad, Lao Tzu, and many more.
Interfaith is a way of life that allows each person to express the Divine in their own way.
Interfaith is an avenue of seeing and seeking the endless possibilities of Divine expression.
Interfaith comes from the perspective that We Are One and are all connected to each other.