Seminary Trained and Legally Ordained Minister
All Couples and All Paths
Professional, Experienced, Skilled and Dedicated with over 1,000 couples happily married!
Serving Lancaster, York, Harrisburg and surrounding Central PA areas
All Types of Weddings and Vow-Renewals: Traditional, Non-Traditional, Non-Religious, Religious, Interfaith, Etc.
As we venture into this new year, reflecting back to the over 1,000 weddings that I have happily officiated since graduating from a 2 year Seminary program and being officially ordained, it continues to be a highlight of my life.  From the very formal church weddings, to the outdoor barn weddings, to the intimate ceremonies by the Conestoga River, or the tender exchange of vows in a nursing home, I'm grateful to have shared in each one.
Even though I have been walking the path of an Interfaith Minister and Professional Officiant for many years, each wedding renews my passion and keeps me doing what I love to do.  I care very much about the couples who allow me to take part in such an important day in their lives.  Each couple is special in their own way and each couple plays a role in choosing the wording that reflects their love for each other.
As an experienced writer and speaker, ceremonies are skillfully created and delivered with care and professionalism.  I work with each couple to make sure the ceremony expresses their commitment to each other and their chosen path, whether non-religious or religious.  As a dedicated professional, I take my responsibility seriously and have a solid reputation for arriving on time and have never had to have someone stand in for me.  On each wedding day, my goal is to be a calming and loving presence amidst the chaos that can occur before a ceremony.  Afterwards, knowing that my couples and their guests have newly treasured memories and hearts which are sprinkled with a little more love makes my heart smile.
I'll look forward to speaking with you about your wedding and putting together the ceremony of your dreams.
About booking your Officiant: When is the perfect time?  At the beginning of the planning process. There are just a few legally ordained Professional Officiants in the area, so its a good idea to make finding your Officiant a priority once you have your date and location.  Please call or email to find out my availability.  Due to high demand, there are several hundred couples per year that I need to turn away because of already being booked.  And remember, just as you have taken great care with choosing your venue, photographer, DJ, etc, you get what you pay for.  Making a wise decision in who will create and present your long-awaited ceremony is priceless.
Scroll to below the photo to the tabs and click on Ceremony Levels and Fees for complete information.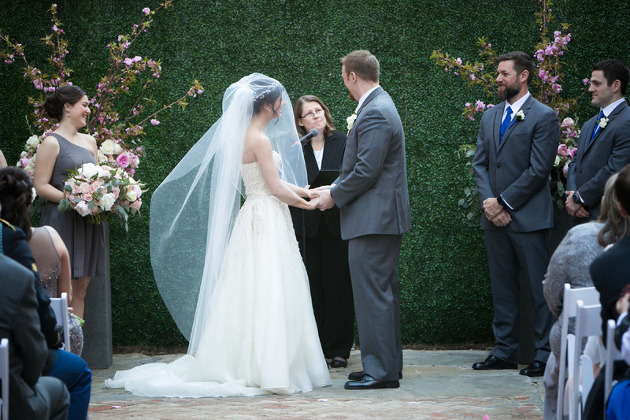 Ceremony Levels and Fees and Other Information
Click on the 3 tabs below for complete information of what I offer.
Loving, non-judgmental support throughout the process
A Personalized Ceremony created for You
Your ceremony officiated with a professional and skillful delivery
Prompt responses to your emails and voice messages
Unlimited phone and email communication and an in-person or Skype meeting (if requested).
The filing of your marriage license after the wedding in accordance with your County's requirements.
How This Works
Below you will find two sections of Weddings:
1. In Blue: Elopements/Small Gatherings that are available on non-prime times in the local area.
2. In Pink: Full Weddings serving Central PA with three pricing tiers.
The ceremony is written to your preferences (non-religious, religious, etc.) and can include your love story to whatever extent you would like. After you have secured your date and time, you will receive a first draft which includes many options in wording for each segment of the ceremony. Feel free to mix and match, adjust wording, and even write your own vows if you like. Some couples include their favorite quotes or song lyric. Reminiscing of how they met and fell in love are important for other couples. Once you have made your selections, send it back to me so I can put the whole ceremony together and get your final approval.  And then, its just a matter of waiting until the big day to bring your ceremony to life.
Customized Elopement and Small Gatherings $250-350
Spur of the moment/Same day elopements are welcomed!  Witnesses are not required in Pennsylvania.
~ The Customized Elopement for Just the Two of You $250 ~
Elopements (no guests) do not include an in-person meeting; phone and email only.
This level is not available during peak wedding times of the day and is only in the local area.
Opening Reading or Prayer
A Little About Your Love
Consent
Wedding Vows
Exchanging of the Rings
Closing Blessing or Prayer
Pronouncement/Kiss

~ The Simple Ceremony With Up to 25 Guests $350 ~
This level is not available during peak wedding times of the day and is only in the local area.
Gathering Words
Support of the Family
Opening Reading or Prayer
A Little About Your Love
Consent
Wedding Vows
Exchanging of the Rings
Closing Blessing or Prayer
Pronouncement/Kiss
Presentation

Customized Full Wedding Options $475-525

A travel fee applies for locations more than a one hour drive from my Lancaster home.
The Rehearsal fee is $150
~ The Customized Sweet Ceremony $475 ~
Gathering Words
Support of the Family
Opening Reading or Prayer
A Little About Your Love
Address to the Couple
Consent
Wedding Vows
Exchanging of the Rings
Closing Blessing or Prayer
Pronouncement/Kiss
Closing Blessing or Prayer
Presentation
~ The Customized Sweet Plus Ceremony $500 ~
This ceremony is when adding up to 3 extras along with unlimited closing blessings/prayers calls to your heart.  See the listing below for some ideas.
 ~ The Ultimate Ceremony ~ $525 ~
This ceremony is for if you prefer full flexibility with unlimited extras and closing blessings and/or prayers.  It also includes a copy of your ceremony printed on ivory parchment paper and a matching Certificate of Marriage.
Some ideas for extras include:
Additional Poem or Reading
Additional Cultural Tradition
Blessing of the Hands
Blessing Stones
Broom Jumping
Consent from the Guests
Dove or Butterfly Release
Family Promises (for blended families)
Glass Breaking
Hand Wrapping
Honoring of the Parents)
Hourglass Ceremony
In Remembrance
Love Letter/Wine Box Ceremony
Painting Ceremony
Ring Warming
Sand Ceremony
Soloist
Tree or Seed Planting
Unity Candle
Wine Ceremony
*Pre-Ceremony Blessing +$25

Rehearsal for Any Ceremony Level $150
The first step would be to contact me to check on my availability as soon as you have decided on the ceremony location. If you would like to check my availability, feel free to contact me BEFORE setting the ceremony date and time.
I'll be happy to meet with you in person at a local coffee shop or Skype, talk over the phone or through emails.  Many couples choose to secure their date with the contract and then meet with me closer to the wedding as we're finalizing the ceremony or if they happen to be in the area for their marriage license or taste testing, etc. Whatever best suits you so that you feel comfortable with your decision of who will be the officiant that brings your ceremony to life. Many of my couples are from out of state, so it is my hope that the lovely reviews I've received will help you feel confident about your decision.
In order to secure your date, time, location and fee the signed contract and a minimum of 50% of the total fee is required. The total fee is due for weddings less than 90 days from requesting the contract.  Dates and times are not held without a contract. Checks, credit cards and cash are accepted. After receiving the contract, your payment is noted, signed and a copy given to you for your records.
There is also an information form for you to fill out.  When its returned, the first draft is created and emailed to you.  It will include a variety of selections in wording for each section of the ceremony and you are free to adjust it to suit your preferences.  
After you have made your choices, you send the draft back to me. Then, I'll put the full ceremony together and email it to you to make sure it reflects your vision of your wedding day.
A rehearsal isn't required but it is helpful.  A rehearsal helps to ease any concerns you may have and allows everyone know the flow of the ceremony and what their role is.
On your wedding day, I'll arrive to get your marriage license, answer any last minute questions you may have and get the microphone (if there is one).
After the ceremony, I'll sign and give you your section of the marriage license and will send the State's copy to the courthouse. It normally takes the courthouse a week or two to process the paperwork. Please contact the courthouse with any questions you may have regarding the marriage license.
About your marriage license: you can obtain it in any county in Pennsylvania.  Contact the courthouse where you plan to get it to find out their fees, etc as every county is different.
Just like before your wedding day, after the big day has come and gone, remember that I'm just a phone call or email away if you have any other questions or just want to talk.